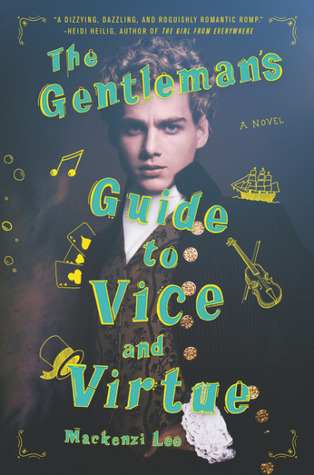 THE BLURB:
Henry "Monty" Montague was born and bred to be a gentleman, but he was never one to be tamed. As Monty embarks on his Grand Tour of Europe, his quest for a life filled with pleasure and vice is in danger of coming to an end. Not only does his father expect him to take over the family's estate upon his return, but Monty is also nursing an impossible crush on his best friend and traveling companion, Percy.

Still it isn't in Monty's nature to give up. Even with his younger sister, Felicity, in tow, he vows to make this yearlong escapade one last hedonistic hurrah and flirt with Percy from Paris to Rome. But when one of Monty's reckless decisions turns their trip abroad into a harrowing manhunt that spans across Europe, it calls into question everything he knows, including his relationship with the boy he adores.
THE SCOOP:
This book is one of the best examples of voice I have ever seen. Delightful, irreverent, and one of my favorite time periods, to boot. It was a little more explicit in the main character's lusting after his traveling companion than I really love to read, but I was so unbelievably impressed by the author's command of voice.
I love this whole new trend of writing historical novels with a modern sensibility--I'm thinking of Lady Jane and Daughter of a Pirate King. The Gentleman's Guide to Vice and Virtue falls into this niche of outrageously funny, pitch-perfect voice.
THE VERDICT
: Oh, it's hilarious. A bit steamy for my taste, but so hilarious and well-told that I wish I could read it again for the first time.