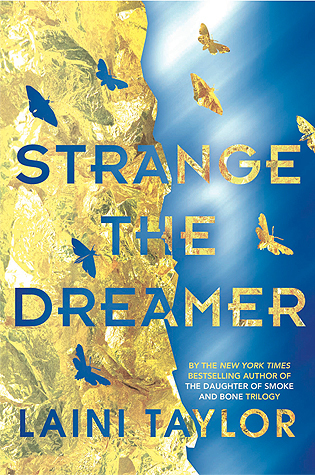 THE BLURB:
The dream chooses the dreamer, not the other way around—and Lazlo Strange, war orphan and junior librarian, has always feared that his dream chose poorly. Since he was five years old he's been obsessed with the mythic lost city of Weep, but it would take someone bolder than he to cross half the world in search of it. Then a stunning opportunity presents itself, in the person of a hero called the Godslayer and a band of legendary warriors, and he has to seize his chance or lose his dream forever.

What happened in Weep two hundred years ago to cut it off from the rest of the world? What exactly did the Godslayer slay that went by the name of god? And what is the mysterious problem he now seeks help in solving?

The answers await in Weep, but so do more mysteries—including the blue-skinned goddess who appears in Lazlo's dreams. How did he dream her before he knew she existed? And if all the gods are dead, why does she seem so real?

Welcome to Weep.
THE SCOOP:
I loved everything about this book. The characters, particularly Lazlo, are so endearing and complex and GOOD (as in good people, not well-drawn characters). I love rooting for people worth rooting for. The world is absolutely amazing. The story is fascinating and unexpected. I did foresee the two main twists at the end, but I enjoyed the journey to them nonetheless. This had all the wonder and delight of an excellent fantasy.

And Laini Taylor's writing. WOW. Every word she writes is lush--perfectly chosen and immersive.
THE VERDICT:
In all honesty, hold your horses! I thought this was a standalone, and I'm not sure I can wait until the sequel comes out. I'm dying to read it. But if you're more patient than I (not hard), grab it. It's everything I love about fantasy.