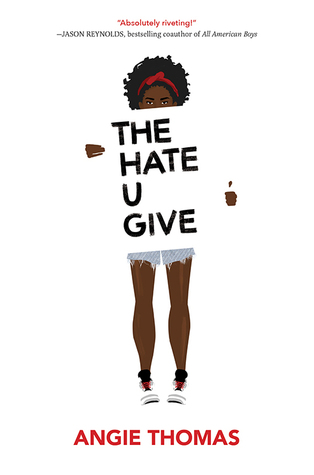 THE BLURB:
"Sixteen-year-old Starr Carter moves between two worlds: the poor neighborhood where she lives and the fancy suburban prep school she attends. The uneasy balance between these worlds is shattered when Starr witnesses the fatal shooting of her childhood best friend Khalil at the hands of a police officer. Khalil was unarmed.

"Soon afterward, his death is a national headline. Some are calling him a thug, maybe even a drug dealer and a gangbanger. Protesters are taking to the streets in Khalil's name. Some cops and the local drug lord try to intimidate Starr and her family. What everyone wants to know is: what really went down that night? And the only person alive who can answer that is Starr.

"But what Starr does or does not say could upend her community. It could also endanger her life."
THE SCOOP: Here's the main thing--it's kept me thinking for months. Here's a few other things:
The author's voice is out-of-this-world perfect.

I felt like I was immersed in a foreign culture in my own country. The vocabulary, the families, the religion, the food, the interactions between friends, the relationships with the police and teachers and parents.

She shows the good and the bad of that culture with unflinching honesty.

It brings the Black Lives Matter movement to heart-breaking life.

Parts of it made me cringe, but I think that was the intent.
THE VERDICT: I wouldn't recommend this book to a really young teen. There's a lot of language and some sexual content. However, there's also a moving confrontation with a social issue at the forefront of many teens' lives, and I'm not sure it could have been done without the language. This book is a wonderful, page-turning, make-me-think-er. Read it and let's chat, please.